3 Thanksgiving Styles You Need to Know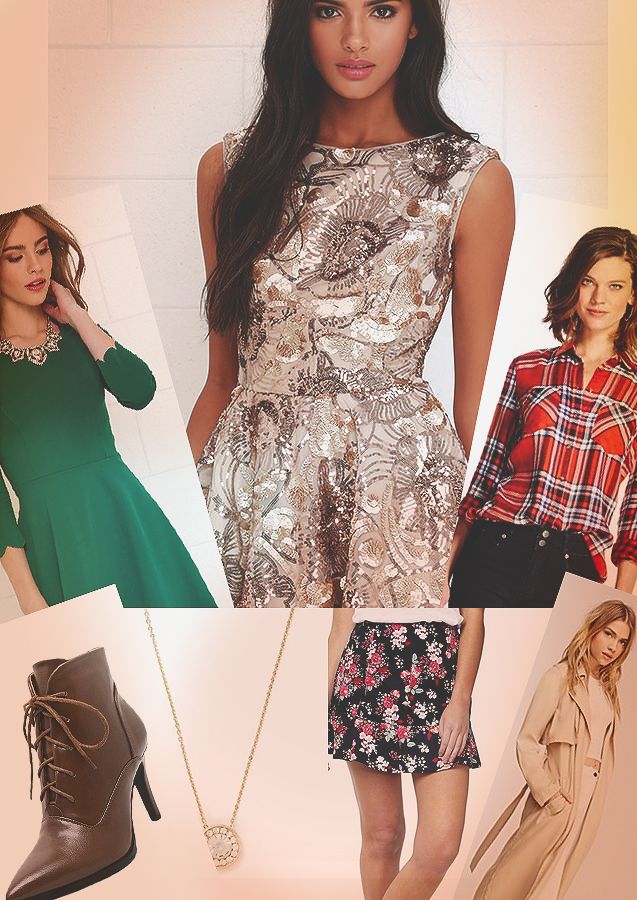 The holidays are already here and let's face it, Thanksgiving is right around the corner. Actually, more like on our doorstep. But before you step out, you have to get dressed for the proper occasion! We've gone ahead and broken it down into the 3 most important styles (occasions) you'll face. 1. Formal Thanksgiving dinner 2. Dinner at your Significant-Other's (S/O's) parents' house (very important) and 3. Casual/"Friendsgiving" feast. Chances are you'll be in at least one of these categories, so here are our suggestions on how to make sure not just your eyebrows, but your whole outfit are on fleek.
Formal Dinner
Wow your bosses or formal company with this smart and savvy look. This simple v-neck, long sleeve bodycon dress pairs well with black or any neutral color heels. Step out with the accompanying draped trench coat for that chilly breeze and the rhinestoned necklace is the cherry on top.
Simple V-Neck Long Sleeve Solid Color Bodycon Knitted Women's Dress – $10.92
Michael Antonio Lovina Patent- $45
Rhinestoned Circle Pendant Necklace – $4.90
This floral patterned short dress and faux fur wool coat says attention to detail. A big necklace such as this floral collar necklace adds statement and ties the look together. Pair the entire look with these black stiletto ankle boots.
Nicole Faux Fur Collar Wool Look Coat – £40.00
Lace-Up Solid Design Pointed Toe Stiletto Ankle Boots – $28.99
Baublebar Floral Collar – $68.99
For a very formal occasion, this contemporary rose and gold sequin skater dress can be paired with almost any coat. If you're looking to make your mark on this formal Thanksgiving Dinner, the intricate gold design is a sure-shot way of dazzling your guests. Fall colors, check. Chic, check. Definitely a sensational way of saying you're not messing around when it comes to formal dress.
LuLu*s Lighthearted Endeavors Rose Gold Sequin Skater Dress- $176.00
Dinner At Your S/O's Parents' House (Aaaah!)
You might be a tad stressed about dinner at your S/O's Parent's house. For some of us it might be the first time meeting them, or it may also be the practice run for Christmas dinner. First impressions are everything and Mom and Pop will see you before you even speak.
First off, *breath*.
Okay, now we'll break it down for you. Too formal and you might seem like you may be trying too hard (not genuine, not yourself) and too casual and you run the risk of seeming like you didn't put thought to impress them ("take me or leave me"…no we want "take me". "Take me" is most important. "Love me because I'm innocent and adorable" is even better).
So we're going to go for simple but graceful and cute but tasteful.
LuLu*s Cumulonimbus Clouds Dark Green Skater Dress – $56.00
This Cumulonimbus Clouds dark green skater dress is both sweet and sophisticated. Solid colors will say simple, while the dark green will say noticeable and cute. When the door opens and the parents see you in this, you'll definitely be invited to stay for dessert.
Windsor Charcoal Don't Mock It Up Dress – $25.90
Dubbed by our team as the "meet-the-parents-but-still-want-to-stuff-your-face-dress," this figure-friendly design is also functional. Though classic and a little more sophisticated, the stretchy material will let you stuff your face without your clothing getting too tight. If you style it with some solid colored black stiletto heels, you'll show parents that you put in the time and effort. Call it the "Don't Mock It Up Dress" or call it the "Don't Mess This Up" dress, because dinner with Mom and Dad is safe with this look.
LuLu*s Guiding Light Blush Long Sleeve Shift Dress – $59
This light blush long sleeved dress is the perfect combination of modest and cute. We don't want to come off as boring either, so the slanted-v line on the back has just the slightest hint of flirty and fun. Wear it without a necklace or with a very modest thin gold choker or princess length chain necklace to highlight its simplicity. For footwear, pair with heel booties.
Casual/Friendsgiving Feast
And now for the fun part. We've covered the formal attire and the stressful parent-meeting attire…now let's get to the face-stuffing with friends. But just because we'll be eating ourselves into food-coma, doesn't mean we can't look good while doing it.
Women's Favorite Shirt Red Flannel Plaid- Merona™ – $22.99
Women's Velour Legging Black – Mossimo Supply Co.™- $12.00
The classic fall flannel paired with simple black leggings. Warmth plus comfort means that yeah…you will definitely be knocked-out after turkey.
Glamorous Long Sleeve Collared Chevron Sweater Dress- $79
Kimchi Blue Off The Shoulder Cozy Romper- $69
These comfy and cute knit outfits are especially nice for staying cozy with your S/O. Which again, will come in handy once food-coma sets in.
Snuggler's Cove Beige Sweater – $44
Tonal Scrunch Over-The-Knee Sock – $14
Our last complete outfit for you comes with that California style. With California weather, you have to find that optimal balance between a sunny day and a breezy chilly evening. Long socks and a sweater keep you looking cute and warm at the same time, but not too warm and not too cool. What one might call "Californian Yin and Yang". Balance and harmony.
We hope you enjoyed!
As usual, if you enjoyed this read you'll love our full site at Shoppyst.com
Come join us and discover the next big thing in shop-networking!
Saved: Uncategorized
Tagged: attire, casual wear, dinner, dress, fall, formal, formal wear, november, occassion, shopping, shoppyst, thanksgiving, what to wear